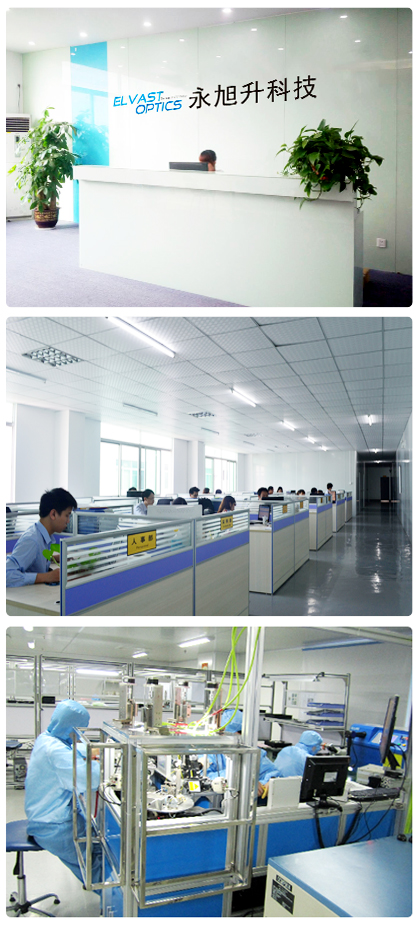 Establieshed in the 2010, ELVAST OPTICS is a leading manufacturer in Optical Transceivers based in China. We Research, Design, Produce and Market the Optical Active Modules globally to satisfy various Optical Network needs: Enterprise, Access, Metro and Core Applications all around the world.

ELVAST OPTICS constantly looks ahead to anticipate tomorrow's design challenges, not only in terms of technology and products, but also in the need for world-class customer engineering and design support. ELVAST's highly-trained engineers provide the basis for both design and customer service excellence. Quality and standards are the foundation of ELVAST. Management and employees are dedicated to providing customers with outstanding, standards-compliant products and services. As part of this commitment, ELVAST is ISO 9001: 2008 certified has rigorous in-house procedures, which include extensive testing and verification of every single device.

Mission: Address customer requirements and respond to market demands by leveraging core technology to rapidly deliver leading edge solutions with a consistent standard of top quality and reliability.

Product Range:
• 100G CFP2 / CFP4, 100G QSFP28
• 40G QSFP+, QSFP+, DAC AOC
• SFP+, DWDM SFP+, CWDM SFP+, BiDi WDM SFP+ transceiver, Tunable SFP+
• XFP, DWDM XFP, CWDM XFP, BiDi WDM XFP, Tunable XFP
• SFP, BiDi SFP module
• MultiRate DWDM SFP
• CWDM SFP, CWDM GBIC
• Multirate SFP, Multi-rate WDM SFP
• GEPON OLT SFP, ONU SFF, OLT SFP
• HD SMPTE SDI video SFP, SD SMPTE SDI video SFP
• Transceivers for special applications, compact SFP, CSFP
• GBIC, WDM GBIC
• TOSA, ROSA, BOSA Triplexer
• Transceivers with any level of customization
Our customers can benefit from real added value from the portfolio of products and service we provide to support your business development objectives.